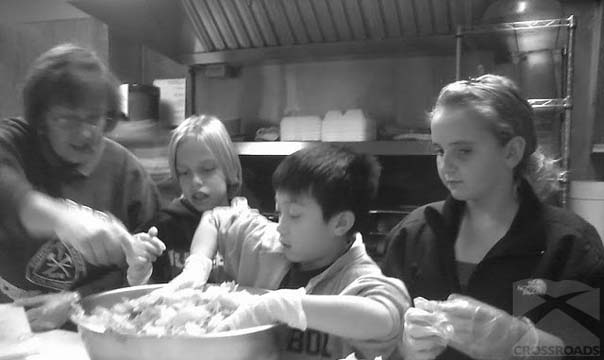 In all my prayers for all of you, I always pray with joy because of your partnership in the gospel from the first day until now. – Philippians 1:4-5
Jump to Local, Regional, Global.
Local
Mission E4 is a non-profit organization located in Hubbardston MA serving the Youth of the surrounding area and Worcester through their youth lead Delta Force Ministry.  delta Force runs weekly after-school programs and a community Center for Youth Development is under construction in downtown Worcester.
Pearl Street Cafe (Framingham, MA)
Serving Dinner on Fourth Mondays, 4:00-7:00pm
Contact: Kathy Cooper
Faith-Based Recovery for Men with Substance Abuse Problems.  Crossroads' relationship with the Bridge House is growing.
Straight Ahead is a regionally based international juvenile justice ministry that seeks to transform the lives of juvenile offenders with the love of Jesus Christ.  Straight Ahead provides Bible Studies and Christian substance abuse recovery groups in hundreds of juvenile lock-up facilities, as well as groups for youth transitioning out of lock-up and cutting edge after care programs in Lynn and Worcester.
Walter and Jane Mutti (Berlin, MA)
Walter and Jane lead "Reaching Your Neighbors for Christ Ministries" – a ministry that aims to strengthen the church in New England through strategic evangelism and discipleship ministries.
Founded in 1992 by Pastor Dick Germaine, Barnabas exists to connect, encourage and equip pastors for 21st century ministry.
Steve serves as the Boston Team Leader with International Students Inc.  For 25 years Steve and Natasha have led an evangelistic outreach to international students in Greater Boston.
Regional Partners
Camp Berea is a camping ministry that provides Christ-centered conferences, retreats and camps for children, students, adults and families in the New England region.
Founded in 1971, His Mansion offers long-term Christian residential care free of charge for men and women between the ages of 18 and 35 seeking help with addiction and substance abuse problems.  Their program emphasizes the importance of becoming a new person in Christ.
Global Partners
Founded in 1981, Partners provides education, housing, medical care, hunger relief, jobs and spiritual support to their neighbors.  Partners has also established a child sponsorship program.
International Teams is a global non-profit organization fueling a movement to change the future of communities worldwide through integrated community transformation. IT brings people together to help the oppressed to see lives and communities transformed by the power of Jesus Christ.
Mission E4 is a non-protfit organization that works in the United States, Haiti, Albania, Kosovo, South Asia, and China to equip the saints and connect the body of Christ.
For more information contact Patricia Rhoades 508.877.7733 x101.